The Gardens at Reddish House
10 min read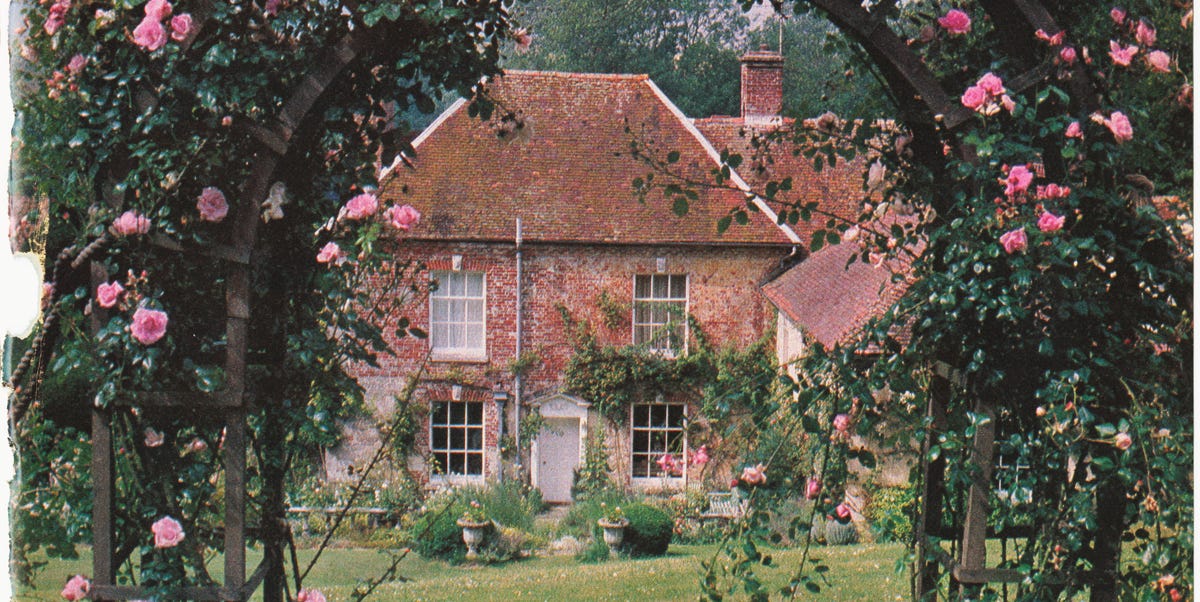 Forty-two years ago, House Beautiful featured a story about Reddish House, the 18th-century Wiltshire, England, estate home to British society photographer and stage designer Cecil Beaton, who photographed countless famous subjects on its grounds. Now Lucy Yeomans lives in the house, and tells the story of bringing Beaton's forgotten gardens back to life. To read the original story from our June 1979 issue, click here.
From the minute I saw it, I was obsessed with this place, with these giant hedges. I was 29 and had just gotten the job as editor of what would become Harper's Bazaar, and I was drawn into Cecil Beaton's beautiful photography—the fact that he'd used his home almost like a backdrop for so much of his work. Having been a magazine editor and always on the hunt for beautiful locations, to me, it was the ultimate location. Last year, my husband and I were the very first people to see it before it went on the market. My friends were like, "Manifest! It will happen!" And it did.
My brother, who is an arborist, said, "I feel like it is a photographer's garden." There are so many different aspects to it. Cecil created this beautiful meadow, what he called the water garden. Then you have the main garden, which climbs up this beautiful hill. It's almost a series of vignettes: There are quite formal hedges, but then there's a kind of more rustic kitchen garden. There's a white-walled walk, which is lined with white tulips and daffodils that change to hydrangeas later in the year. When you go past the hedges, there's a more straight, flat, traditional formal lawn. Right now, it's like a hundred thousand bulbs have been planted. Crocuses and daffodils and primrose. It's called the bulb lawn, it's just a sea of the most incredible flowers, almost a wild garden as well as having kind of formal elements.
What we've decided to do is take our time. We want to live through a year of seeing the gardens flower—what happens, what comes up, you know, rather than come in with a vision. The winter garden is the conservatory area that Cecil built on. It's old. It needs lots of love. The building came with some plans to change it, and we were like, No no, we don't want to do that! This is the room where he photographed David Hockney, Mick Jagger, Truman Capote. This is the history and the heart of the house, and where he took some of the most iconic photographs.
Our daughter, Red, is the first child to have lived in this house for a long time. And the yew tree hedges, she can climb inside them! She can swing from the branches! One of our gardeners, who was here just at the very end of Cecil's life, is like, "This is wonderful. I love hearing laughter from inside the cloud hedge."
Read the original story from House Beautiful in June 1979 below.
---
Cecil Beaton
by Patrick O'Higgins.
On the train to Salisbury there's a golden-haired girl of about 20 sitting opposite me. We share a cup of team. "Where are you going?" She asks politely. "Broadchalks," I answer. "Oh! That's where Sir Cecil Beaton lives. He's one of our national treasures!" I'm informed.
Later that afternoon I tell Cecil what the younger generation thinks of him. We are old friends. He has consented to a rare interview. The subject is to be decorating and gardens. "Was she pretty?" he asks me. Beauty means more to him than anything in the world. "Yes, indeed!" I answer. "I'm so pleased! It's the small things in life that matter to me now."
Three years ago he had a stroke. It left him partially paralyzed. "When it happened I wanted to die," he admits. "But then my friends gathered around me and the garden was in bloom. So I changed my mind!" He learned to write and draw again with his left hand. Recently he finish the fifth volume of his personal memoirs. He is photographing and, as always, giving pleasure to him many friends who stay with him at Reddish—his house in Wiltshire.
A convivial and wonderful host, Cecil Beaton has owned Reddish for almost half a century. It's an early 18th-century gem built, reputedly, by Charles II— for dalliance. "It was a love nest!" Cecil says with a wink. "It still is…" I wink right back.
Viewed from the front the beautiful house might have been designed by Wren. It is perfectly symmetrical and built of coral brick, golden-hued stones, on the sunny side of a small hill and the outskirts of a romantic village. Box hedges, fine old treed, smooth lawns, and a profusion of flowers soothe the eye. Cecil dotes on gardens and gardening. He adores flowers. His garden, or gardens, since there are several dedicated to various purposed, are famous throughout the county. Beyond them, left and right, there are thatched cottages, barns, outhouses. A water garden of mossy banks, shimmering ponds, lambent trout streams, faces the house. The front door is always ajar. Within there's a cool hallway of hewn flagstones and fine stucco.
"How clever you are, sir Cecil," Elizabeth, the Queen Mother concluded on a visit, "to have made everything look so shabby!"
Cecil Beaton has always decorated all of his homes. Even when he lived and worked in New York, in a series of hotel suites, he transformed them with the definite, definitive stamp of his personality—Gothic or Baroque, they were always Beaton. "I enjoy feathering my nest," he says.
The library at Reddish, where tea is served, is a book-filled room in tones of green, enhanced with touches of red velvet. "A nice corny color scheme," says Sir Cecil. "Cozy, what's more!" The drawing room, where we sip cocktails, is an Edwardian fantasy of white and gold, glazed chintzes, and fine French furniture. "F,F,F," Cecil calls the bergères, side-boards, sconces and gilded mirrors.
Mrs. Beaton, who shared Reddish with her son, smiles a quiet welcome from the elaborate frame of a turn-of-the-century portrait. It was for her he built a Japanese conservatory—a folly of bamboo, rattan, and gothic arched windows—that abuts her powder-blue bedroom.
Reddish is amazingly compact. There is no wasted space. The dining room, for instance, is next to the kitchen and connected to it by a hatch. It's an austere room whose white-washed walls are enhanced by pewter plates and Giacometti bronzes—including several skeletal lamps. Works of art abound throughout the house. These are portraits of Cecil Beaton by Augustus John, Christian Berard, David Hockney—in addition to masses of 18th,-19th, and 20th-century paintings and drawings which, for one reason or another, tickled their owner's fancy.
"That's what it's all about!" Cecil states with conviction. "Decorating should be, must be, the reflection of the person who lives on the premises—and not the decorator!"
Upstairs, in addition to a pair of guest rooms furnished for comfort and scented with potpourri, is the master suite. It faces the glorious gardens photographed on these pages.

"We had it made up of odds and ends!" Cecil Beaton says of his vast, four-poster bed, centered in the middle of his bedroom. The room is awash in toile de Jouey, bibelots, antiques and memorabilia. "It's a typical English room," he specifies with yet another wink, "that would hardly meet Hollywood standard!"

The rising sun invariably wakes him, as does the song of birds and the scent of garden flowers wafting through an open window. We begin our interview. "Sit there," he says, "where I can see you!" Cecil is still in bed. His speech has recovered its old vitality. He has just photographed the French collection, painted a dozen new watercolors, traveled about the country, and spend a weekend in London. At 75 he looks 10 years younger or like one of the Trollope's dukes, or even Merlin without a beard. "I'm a jack-of-all-trades," he's fond of saying of himself, "who has been given a second chance! Now let's have a good gossip," he adds, "and a laugh…"
Who started you off in photography?
My sisters' nurse, Alice Collard. She gave me a Box 2 Brownie and showed me how to use it. We experimented together. She had great enthusiasm, and curiosity, and a bit of taste, and an eye for composition, and finally a feeling for the powers of light! Or darkness…
Do you have any advice for young photographers?
Certainly! Let them study great paintings. Composition, that's all-important. The rest is just habit, and work.
How did you start designing for the stage?
I was always stage-struck. At age three I fell in love with Lilly Elsie, I produced my first design, for her, when I was eight. Later, I specialized. The Edwardian period became my stock in trade. I'm almost an Edwardian myself. After all, I was born in 1904. Plays like Lady Windermere's Fan and My Fair Lady gave me a reputation. So you see, from photography, I gravitated to the theater; from the theater, I slipped into interior decoration—mostly for myself, although I've written about decorators.
What decorations did you most admire?
The three graces… Elsie de Wolfe, Syrie Maugham, Sybil Colefax. Elsie invented the color beige, and covered toilets with armchairs. Syrie thought she had discovered white and pickled her way to fame. She loved natural wood. While Sybil gave glazed chintz a shot in the arm. I next met Emilio Terry and Jean Michel Frank when on a visit to Paris. Terry, a South American, had a feeling for architectural settings. He used rare woods with great skill. Frank, in my opinion, was the greatest of all the decorators I've ever known— daring, inventive, elegant, sophisticated. You name it!
In what way was his daring evident?
He had a very personal vision—used strange materials such as parchment and even brown paper bags for wall covering; produced lamp shades made of goat skin; stenciled rare fabrics; loved white linen to slipcover everything in sight. He streamlined, purified, dramatized…his use of marquetry was sensational. He even designed his own Aubusson carpets and then, one day, shot himself while having a chat on the telephone with one of his customers. Actually, it's a miracle that doesn't happen more often.
Who else 'sent you', so to speak?
I like the words 'sent you!' They suggest the strangest pleasures Mr. Billy Baldwin did, but only very briefly. Mrs. Vreeland, although not decorator in the strictest meaning, has always sent me. "I adore bad taste!" She once told me. Chanel was an extraordinary decorator. She used objects with such abandon, including rather tired red roses. "What we create in fashion must be beautiful, first; then ugly, afterwards," she once said. "What is created by art must be ugly first then beautiful, afterwards!" But my greatest influence of all was the painter, Bebe Berard. He really sent me! What's more, his influence reached out in all directions. Without him Dior could not have created the New Look. He staged the plays of Molière as they have never been seen before. His costumes and setting for the film Beauty and the Beast will never date. He even created several ballets that were magical because of their lack of props. Great art, great anything, is all a question of less, not more!
What are your favorite colors?
Sand! I find sand, or what Elsie de Wolfe would have called beige, very lulling—particularly for a bedroom or a workroom. In a living room I tend to go berserk. After all, it is a setting; or a background. I remember seeing one of those Imperial sitting rooms in Leningrad. The walls were covered with ones, jasper, porphyry, and a dozen different marbles and, set in this crazy quilt, were carved, crystal medallions. Small wonder they drank a lot of vodka! America's greatest contribution to interior decoration is turning what is fundamentally a cottage industry into big business. I love American gadgetry. Queen-sized beds and a deep-freeze to match! What better place in which to store a decorator?
And gardens, finally!
Ah, the nitty-gritty! The coup de grâce! A cottage, a house, a castle doesn't mean peanuts, to me unless it has a garden. Francis Bacon called the love of gardens "the purest of human pleasure!" Garden lovers need not be serious gardeners. Take me. I use my garden as a playpen of a psychiatrist. True, January and February produce despair. It's terrible. A huge, brown, damp blank! Then, the first daffodils pop up. Next there are jonquils and narcissus. I almost feel like a toddler. I know that, for the next nine or ten months, I'll be entranced. My garden is the greatest joy of my life, after my friends. Both are worth living for.
---
Follow House Beautiful on Instagram.

This content is created and maintained by a third party, and imported onto this page to help users provide their email addresses. You may be able to find more information about this and similar content at piano.io